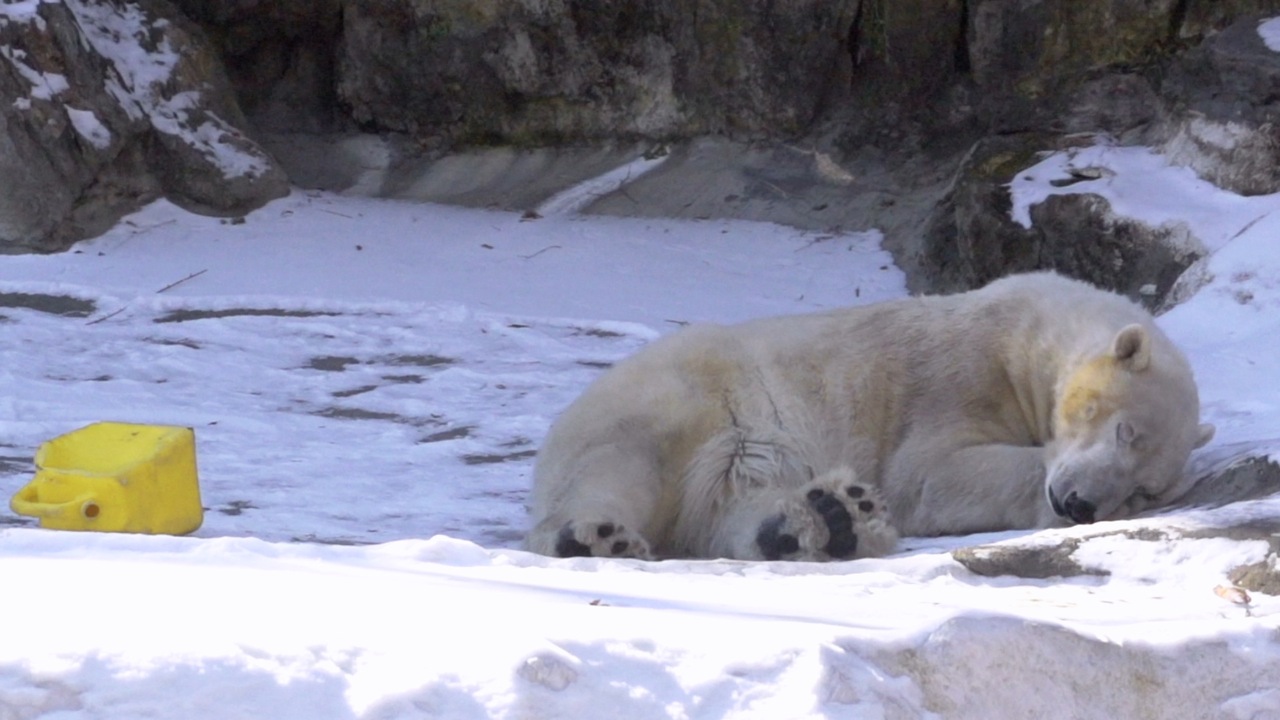 Rachel Rose




Exhibition catalogue, Co-Workers, le réseau comme artiste (Co-Workers, Network as Artist), Musée d'art moderne de Paris & Paris-Musées, Paris, 2015.
Rachel Rose's first video installations address the relationship between nature and culture, by juxtaposing artistic, scientific, technological and biological sources. The artist is particularly interested in states where the human, animal, and natural notions elude conventional definitions. Different universes merge in her creations: a robotic engineering laboratory, experimental architecture like Philip Johnson's Glass House, zoos, studies on climate change, the American Revolution, and designing a 19th-century park.
The realization of her works is the result of a research process that associates heterogeneous materials: images found on the Internet, documentary footage she produces, and three-dimensional transcriptions of places. Each project is an opportunity for philosophical questioning and is accompanied by filmmaking experiments: a remote-controlled camera lets her zoom in on distant elements, giving the images a physical character (Palisades in Palisades, 2014); the contours and movements of a figure filmed in real life can also be turned into animated film through digital rotoscoping (A Minute Ago, 2014).
Her video, Sitting Feeding Sleeping (2013), is a kind of visual collage made with Adobe Premiere software. The video arises from her research on the concept of "deathfullness", a state where a being is alive and well but feels dead due to being cut off from its sensations or surroundings. The artist went to several American zoos, the research laboratory "Machine Perception Lab" at the University of California, San Diego, and a cryogenic laboratory in Arizona. In the video, the loss of animal instinct, the reproduction of human emotions by machines, and artificial life support, are all placed on equal footing: documentary clips made during the trip, computer screen shots, and views of iconic paintings alternately overlap in erratic rhythms or more contemplative sequences. In a voice tonally adjusted, modulated, and made to sound slightly metallic using Auto-Tune software, the artist impartially comments on the video, which accentuates the impression of wavering, between objectivity and introspection.
The work is thus presented as a variation on the evolution of species, colonizing natural areas, altering life through technological progress, and assisted reproductive technologies and the status of death. Thanks to poetic, contemplative, and detail-oriented filmmaking, the meaning emerges through the confrontation of different points of view, without offering a unique answer.
La réalisation de ses œuvres résulte d'un processus de recherche associant des matériaux hétéroclites – images trouvées sur Internet, séquences documentaires qu'elle réalise, transposition d'espaces en trois dimensions. Chaque projet est l'occasion d'un questionnement philosophique et s'accompagne d'expérimentations cinématographiques : une caméra télécommandée permet de zoomer au plus près d'éléments éloignés, ce qui donne un caractère physique à l'image (Palisades in Palisades, 2014) ; les contours et les mouvements d'une figure filmée en prise de vues réelles sont fidèlement retranscrits dans un film d'animation au moyen de la rotoscopie numérique (A Minute Ago, 2014).
Sa vidéo, Sitting Feeding Sleeping (2013), est composée comme un collage visuel réalisé à partir du logiciel Adobe Premiere. Elle fait suite à ses recherches sur le concept de « deathfullness », état dans lequel un être est bien vivant tout en ayant le sentiment d'être mort car coupé de ses sensations ou de son environnement. L'artiste a visité plusieurs zoos américains, le laboratoire de recherche « Machine Perception Lab » de l'université de Californie, à San Diego, et un laboratoire de cryogénie, dans l'Arizona. Dans cette vidéo, la perte de l'instinct animal, la reproduction des émotions humaines par des machines et le maintien en vie de façon arti cielle sont mis sur un même plan : les extraits documentaires tournés au cours de ce voyage, les captures d'écran d'ordinateur et des vues de peintures iconiques se superposent dans une alternance de rythmes saccadés et de séquences plus contemplatives. Avec une voix dont la tonalité a été corrigée, modulée, rendue légèrement métallique au moyen du logiciel Auto-Tune, l'artiste commente la vidéo avec distance, ce qui accentue l'impression de flottement, entre objectivité et introspection.
L'œuvre se présente ainsi comme une variation sur l'évolution des espèces, la colonisation des espaces naturels, la modification de la vie rendue possible par le progrès technique, l'évolution de la conception et du statut de la mort. Grâce à une écriture filmique à la fois poétique, contemplative et précise, le sens émerge de la confrontation des points de vue, sans donner de réponse unique.