A Sweet Taste of Conspiracy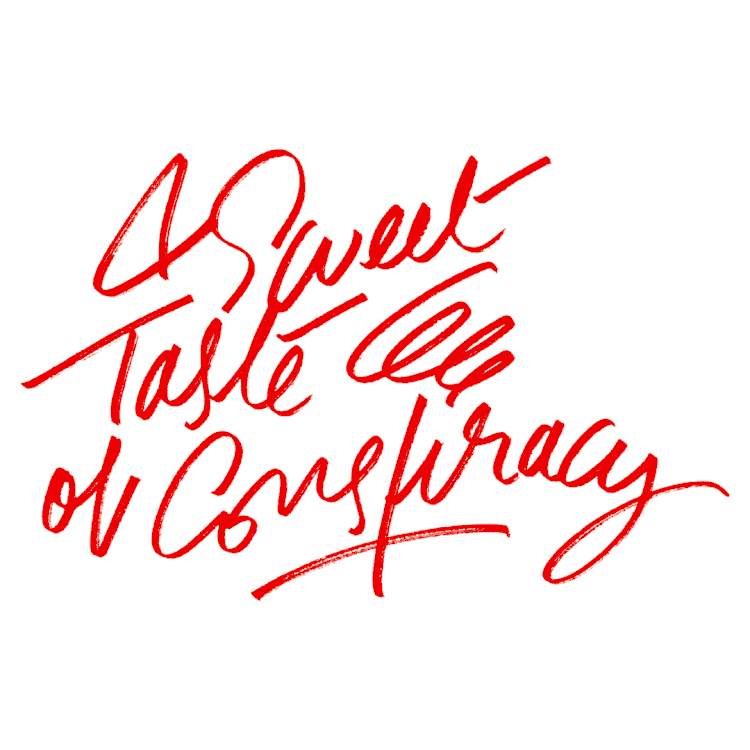 Screening
22 & 23 Sep. | 17h - 21h
Fuego, Mexico City
Artists: Monira Al Qadiri, Korakrit Arunanondchai, Madison Bycroft, Sol Calero & Dafna Maimon, Julien Creuzet, Pauline Curnier Jardin, Eric Giraudet de Boudemange, Lucile Littot, Pierre Paulin, Réjean Peytavin & Alice Bertrand, Piscine with Aeron Bergman & Alejandra Salinas,Tabita Rezaire.
The screenings program "A Sweet Taste of Conspiracy" features international artists for whom the video extends or includes a pictorial, sculptural, performative or poetic practice. Inspired by genre cinema, science fiction, and romantic TV show imagery, in addition to the language of advertising, media and internet culture, their videos stem from experimentation of forms and a hybridization of materials and influences.
Using diversion and subversion of cultural codes, the films presented create alternative narratives driven by a secret agreement.They interpret tales, myths, ancestral knowledge and folklore of the plot within an emotional or amusing way.

Tacit connections are developed between a global market economy and an underground animism; between spiritualities and the use of technologies, between networks and plant or animal intelligences. As the signs spread, doubt gradually appears in stories previously told.
Screening program:
September 22

Pierre
Paulin, Complexe de 1986 n°6, 2017. Conversación con la voz del poema, Boom boom, run run, 2017, 9'10".
Piscine, Aeron Bergman & Alejandra Salinas, Be A Pattern For The World, 2018,5'48".
Sol Calero & Dafna Maimon, Desde el Jardin, 2016, 28'24".
Lucile Littot, It's My Party and You Will Die If I Want You To, 2018, 2' 34"
Madison Bycroft, The Afternoon, 2018, 23'44".
Pauline Curnier Jardin,Teetotum, 2017, 3".

September 23

Re
́jean Peytavin, Saturnism, 2016-2017, 9'45" (with Alice Bertrand)
Monira Al Qadiri, The Craft, 2017, 16"
Julien Creuzet, Blue Bleu, 2017, 9'52"
Eric Giraudet de Boudemange, That Speechless Green Man, Inside a Cyborg, 2017, 7".
Korakrit Arunanondchai, with history in a room lled with people with funny names 4, 2017, 23'32
Tabita Rezaire, Premium Connect, 2017, 13'04"raft, 2017, 16".
A SWEET TASTE OF CONSPIRACY

"A Sweet Taste of Conspiracy" réuni des artistes internationaux pour lesquels le medium de la vidéo prolonge ou englobe une pratique picturale, sculpturale, performative et poétique.

S'inspirant aussi bien de films de genres, d'un imaginaire de la science-fiction et du feuilleton romanesque, que du langage de la publicité et des réseaux, leurs vidéos sont issues d'expérimentations de formes ainsi que d'hybridations de matériaux et d'influences.

Procédant par détournement et subversion de codes culturels, les films présentés créent des récits alternatifs mus par une entente secrète. Ils réinterprètent les contes, mythes, savoirs ancestraux et folklores du complot de façon affective et amusée. Ou explorent les liens tacites entre une économie de marché globale et un animisme souterrain, entre spiritualités et usage des technologies, réseaux et intelligences végétales et animales.

Progressivement et par dispersion de signes, le doute s'insinue quant à la véracité des histoires jusqu'alors racontées.