In tune with the world
a new selection from Fondation Louis Vuitton's collection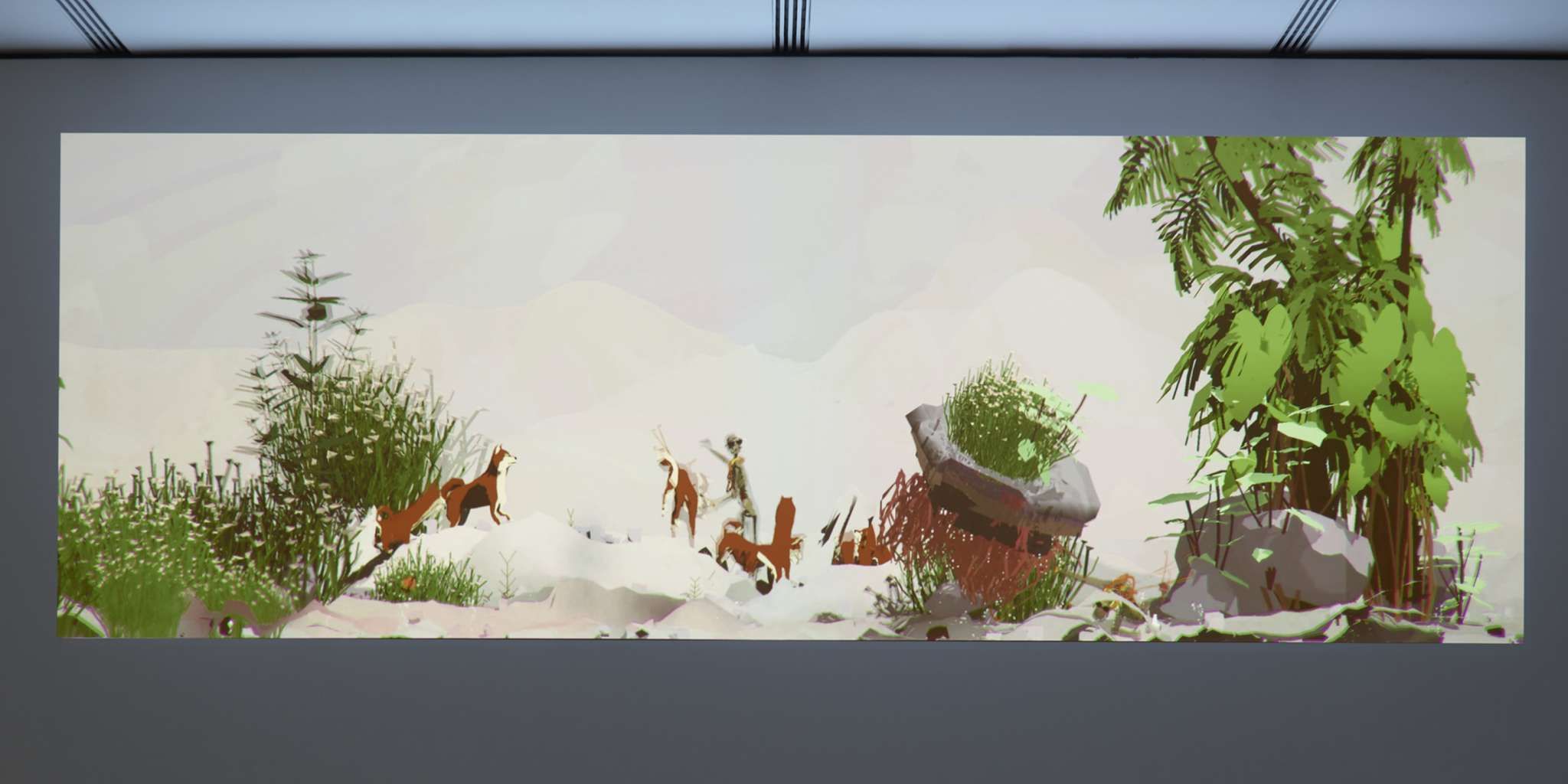 Fondation Louis Vuitton, Paris
April 11 - Agust 27, 2018
Assistant curator Contemporary art
Artists: Giovanni Anselmo, Matthew Barney, Christian Boltanski, Mark Bradford, James Lee Byars, Maurizio Cattelan, Ian Cheng, Andrea Crespo, Trisha Donnelly, Dan Flavin, Cyprien Gaillard, Alberto Giacometti, Dominique Gonzalez-Foerster, Jacqueline Humphries, Pierre Huyghe, Yves Klein, Mark Leckey, Henri Matisse, François Morellet, Philippe Parreno, Sigmar Polke, Gerhard Richter, Bunny Rogers, Wilhelm Sasnal, Shimabuku, Kiki Smith, Adrián Villar Rojas, Anicka Yi.
In Tune with the World
unveils a new selection of artists from the collection, of several different mediums, bringing together modern and contemporary works, most of which have never before been exhibited in these spaces.
More than a simple hanging of works, it is intended to be an exhibition based on a specific theme. This reflects today's questions about man's place in the universe and the bonds that tie him to his surrounding environment and living world, highlighting the interconnections between humans, animals, plants, and even inanimate objects.
Inspired by the assertion of Roland Barthes in La Chambre claire (Camera Lucida) (1980) «I have determined to be guided by the consciousness of my feelings», the works are themed around the idea of emotional affinity. The itinerary is structured around three complementary themes, each presented on one floor of the building: Irradiances ; Là, infiniment… [Here, infinitely...] ; L'Homme qui chavire [The man who capsizes].
The title «Irradiances» refers to the light beam of Dan Flavin and brings together works in a variety of media: paintings, sculptures, videos, installations. Each work is about man's continuous dialogue with nature, exploring how different materials and their metamorphoses can create a cosmic landscape. «Here, infinitely», presents works by Cyprien Gaillard, Wilhelm Sasnal and Adrián Villar Rojas. By way of reworking iconic works from the history of art, these three artists reflect on man's domination throughout history as well as on his potential demise. The last sequence is inspired by the body in all its forms, from the most tangible to the most imaginary, taking The Man who capsizes (1950-1951) by Alberto Giacometti as its starting point.
AU DIAPASON DU MONDE

" Au diapason du monde" dévoile une nouvelle sélection d'artistes de la Collection réunissant des œuvres modernes et contemporaines, tous mediums confondus, pour l'essentiel jamais exposées en ce lieu.

Au-delà d'un accrochage, « Au diapason du monde » se veut une exposition sur la base d'une thématique précise. Celle-ci renvoie aux questionnements actuels liés à la place de l'Homme dans l'univers et à la nouvelle approche qui le lie à son environnement et au monde du vivant, soulignant les interconnexions entre l'humain, l'animal, le végétal voire le minéral.
Exhibitions views, "In tune with the world", Louis Vuitton Foundation, 2018 © Fondation Louis Vuitton / Marc Domage